Well, I was going to make some more scrappy blocks tonight following
Nicky's quilt along/tutorials
, but my sewing machine was not playing nice with my Liberty scraps and the tension was all wonky. So I need to fix that but I was too tired to fuss.
So instead, for this Scraptastic Tuesday I will share the few scrappy quilts I have made. For me, scrappy means using different fabric lines, and bits and pieces of fabric that has been left over. There can be a plan, and an overall colour scheme, but the fabrics don't perfectly match. I am pretty sure that using different lines by the same designer does not count as scrappy.
With that in mind, I looked at the quilts I have made, and if I leave out the quilts made with solids and the mini quilts there are just not that many which are scrappy.
That quilt there I named Friends. She was constructed out of blocks made by my friends in the Modern Stitching Bee using their own fabric stashes. A bee quilt is a great way to ensure all different kinds of fabrics.
In fact, this giant Granny Square quilt is another bee quilt, from the same Modern Stitching Bee. This kind of scrappy, where the colours are grouped nicely, is much more comfortable for me.
The third bee made scrappy quilt I found in my quilts - although I gave this one to Siblings Together - was made with blocks from the Always Bee Learning group.
Rebel is a scrappy quilt but made with bigger pieces. I think that scrappy does not have to mean small little bits.
This is my Scrappy Trip Along quilt - I use this one all the time on my sofa but I have to admit, I find her overwhelming if I look too carefully. She was fun to make but I think next time I make one of these I will limit the colours somehow.
My Kaleidoscope quilt lives with my nephew. This is my kind of scrappy, the fabrics are diverse but the colours are not.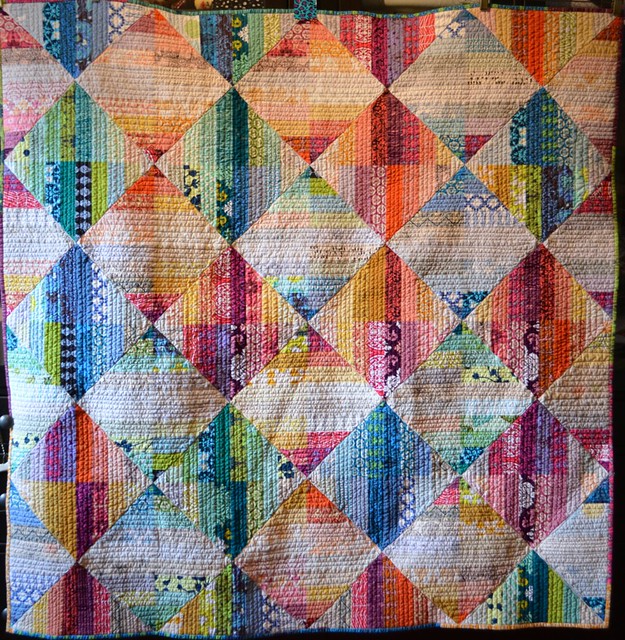 And finally, Reflection. This quilt has all the colours, but grouped in warms and cools. I think that is my favourite trick for scrappy, I so love this quilt. In fact, if my sewing machine does not behave today, I am going to use my sewing time to cut strips for my next version of this pattern instead.
Since it is the second Tuesday of the month,
Nicky
and I hope you will join us to link up a scrappy project, started or finished, or your thoughts on scraps or scrappy quilts or how to use, organize or deal with them. We have many wonderful sponsors again, and will award the prizes randomly.
The link will only be open for one week this time - to the end of November 17 at my house, MST - and for all future months. Please only one link per person - link a blog post, or flickr photo, or instagram photo, whatever you like. You can link up here or at
Nicky's blog - Mrs. Sew and Sow
- it is the same link party at both blogs so please only link once. Oh and do add a link back to
Nicky's
or this post and feel free to grab the Scraptastic Tuesday button too, so that maybe some of your readers might join in too.
Please visit the links, at least two behind your and two after your and leave some comments, and that way everyone will get some comments. In fact, consider visiting all the links, the scrappy projects and thoughts are inspiring and fun.
Here are our lovely November sponsors:
A huge thank you to each of our generous sponsors for the following prizes, which will be awarded randomly:
I look forward to visiting you all, and thank you for joining us for Scraptastic Tuesday. Check back next Tuesday for the winners too.
Here is the button code:
Before I go, it is Remembrance Day in Canada today. I live in one of the safest countries in the world, and that is in large part because of those who fought in the world wars, including many, many Canadians. This annual day of remembrance is to make sure that we honour those who fought for our safety and that we never forget.
Best,