Welcome to if you're shopping.... On Fridays, sometimes Saturdays like today, I share news from my sponsors, in case you want to do a little shopping, or even window shopping, this weekend
The deal of the month at Sew Sisters Quilt Shop is Wonder Clips!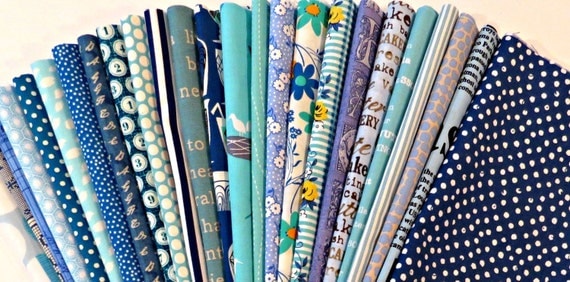 If you want a little of many fabrics - say for a scrappy quilt or pillow, Becca from Sew Me a Song is making the most fantasic bundles, including this Colour me Blue fat 16th bundle.
The Fat Quarter Shop has exclusive 12 wt Aurifil thread sets (10 spools of 54 yards each), perfect for hand quilting. This is the Macaroon Finishing Set.
Congratulations to Green Fairy Quilts for 7 years in business. They are sharing the party, use discount code 7YEARS for great discounts!
The Autumn colours at Oakshott Fabrics are beautiful, check out the project links on the Oakshott Shotthrough Blog.
More unpacking today, and a bit of cleaning too, but the sun is shining and it is not too hot, so off I go. Enjoy your day!
Best,
Leanne