Today I get to show off this beautiful little crib quilt I made using the
Fat Quarter Shop's free Mini Charm Mix Pattern
.
The Fat Quarter Shop has not only put together
a lovely free pattern
- you can also watch
this video where Kimberly gives you the quick and easy instructions
.
I decided to make the crib size - the pattern also gives you instructions for a table runner and a lap size quilt. Lately there seem to be more and more babies arriving around me and a crib size quilt will be a perfect gift for one of them. I chose to make the top with
Horizon by Kate Spain
and Kona White. My version of the crib quilt, after a good wash and dry, is about 30" by 35".
I quilted this quilt with unevenly spaced straight lines. First I stitched all over lines in one direction. Then I took the quilt off my long arm and turned it so that I could quilt lines perpendicular to the first set. Of course, perpendicular straight line quilting is even easier to do on a domestic machine with a walking foot. Those additional lines were quilted only in the area where the feature mini-charm squares run. After a wash and dry, this quilting gives the quilt beautiful texture.
You can see the quilting effect well on the back. I used some beautiful prints from
Violet Craft's Brambleberry Ridge
for the back.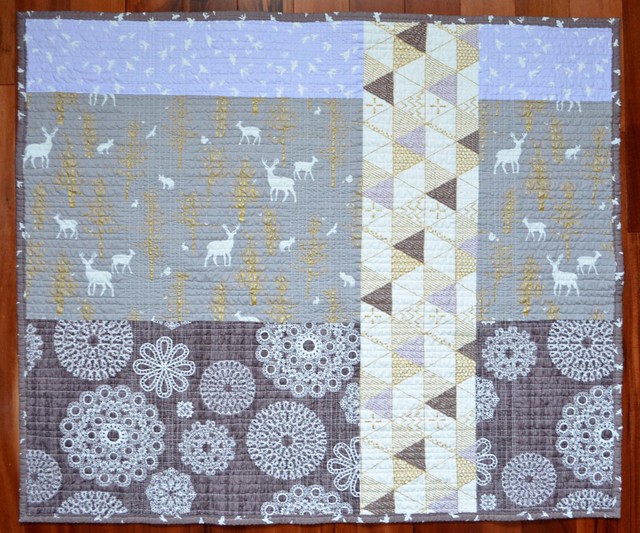 There is the whole back. It was my hope to make this quilt suitable for a baby of either gender. After a lot of auditioning, I decided on another
Brambleberry Ridge print
for the binding, which I machine stitched in place.
This crib quilt was fun and easy to make and the pattern is a great way to use mini charm packs. You could easily use mini-charms from more than one line of fabrics too, for even more variety in the prints. Or there are
kits available at the Fat Quarter Shop too
.
Thank you to the
Fat Quarter Shop
for including me in the blog hop for this new free short cut quilt pattern.
Best,
Leanne