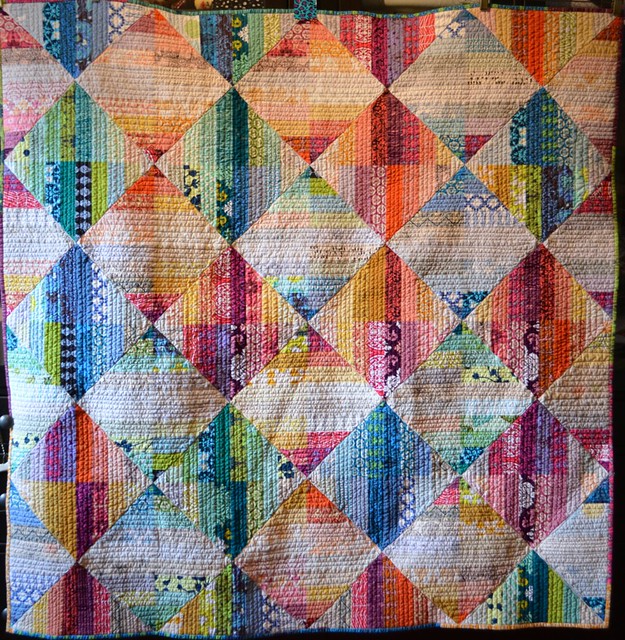 This is a quick and heartfelt thank you to all of you for voting for Reflection. She has won the
Scrappy Quilts Category at the Blogger's Quilt Festival
. I am so honoured that she was also nominated for the Viewer's Choice award too.
Reflection is in fantastic company, congratulations to all the winners in all the categories and also in the other prizes, including many of my real life and blogging friends - including
Krista, Poppyprint
(I went shopping with Krista to pick the backing fabric for that wonderful quilt),
Janet, What Comes Next
(who I met at the VMQG meeting Krista took me to),
Lucy, Charmed About You
(who I met at the FQR in London),
Anne, Spring Leaf Studios
(who is in my Four in Art group), and
Kati, From the Blue Chair
(who I would love to meet and whose blog I have followed from the beginning) and
Joanna, Shape Moth
(who was my teacher at the FQR in London last summer).
You can read more about Reflection in
my festival post here
. I learned to make this block from the super talented and generous
Linda Rotz Miller
and, with Linda's permission, I posted a tutorial for making
this block here
.
Thank you to Amy, from
Amy's Creative Side
, for all her work on the festival!
I hope to have a quilt to show you tomorrow, before the end of the month as it is my project for May for A Year of Lovely Finishes - I finished the quilting tonight and now just need to finish the binding. I also want to show off the work of my Canvas pattern testers (the pattern will be on sale until the end of the weekend). Finally I have a binding tutorial almost finished too. Stay tuned.
Best,
Leanne