Well, I managed 4 finishes, which makes me very happy, and despite having put 14 items on
my Q1 list
, I am considering the quarter successful.
My first finish was Triangle City. You can
read more about her here
. She was selected as one of the Modern Quilt Guild top ten from the Riley Blake challenge too,
you can see all the finalists here
and the
fantastic winners are here
.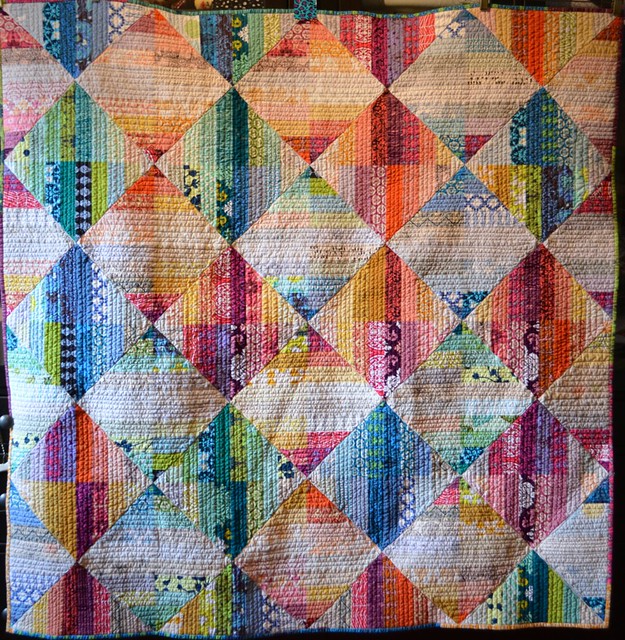 I finished Reflection,
more on her is here
.
A tutorial showing how to make this simple but lovely quilt block is here
. I have started another quilt like this already, I think it will go on my Q2 list.
My Nordika Giant Plus quilt makes me smile. I had fun quilting her as a sampler and
my Ta Da post is here
.
I am very pleased and proud to have finished Snowfall too.
Her Ta Da post is here
. Snowfall is the fourth quilt in my cycles series and I have to say that the next one is in my head too. I hope to get a start on the new quilt this weekend so she can go on my Q2 list as well.
And for the rest of the Q1 list, most or all of it will be on my FAL Q2 list as I am keen to get them all done. I have been busy this quarter learning to use my new Millenium Long Arm quilting machine and so finishing more quilts is in order.
However, I am also on the road a lot this spring, so time is at a premium. But it is not all work, next week I head off to Nashville for the MQG Sewdown Nashville - are any of you going to be there too?
I am writing this as I sit in an airport for the fourth time this week, so it is a short and sweet post. If you have not yet posted your Q1 FAL finishes,
head over to Katy's blog - The Littlest Thistle - to get them posted,
the prizes from the fantastic sponsors are wonderful, the Q1 tutorials look lovel and time is running out to get your finishes posted - and there is so much inspiration linked there too.
Best,
Leanne