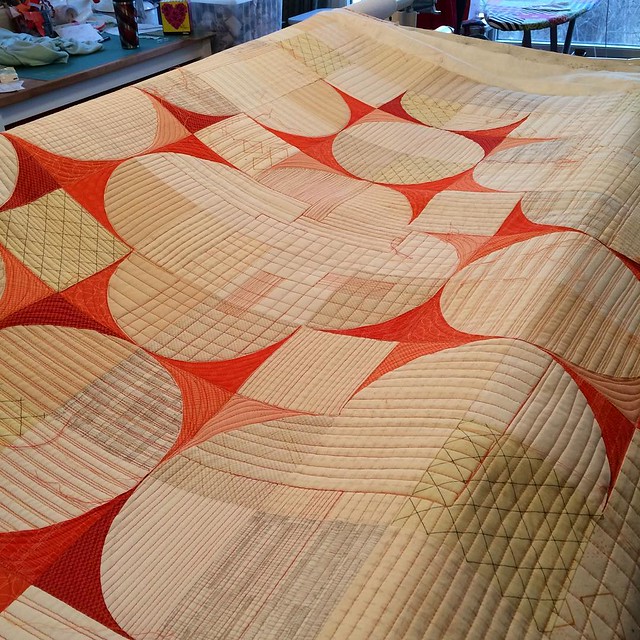 The quilting is done! I used all the moments available to me yesterday to quilt. Today I will trim and start binding this quilt. Also I have to mend in all those thread ends from the thread breaks - a couple of them are from bobbins emptying too. Mostly I was able to just transition from one quilting area to the next without cutting the thread.
I am sure there are several names for this ariel view, linear graffiti, industrial line style of quilting - these are mine. It is all freehand - no rulers, no computer, no channel locks used on my longarm. The lines wobble, the spacing varies, the turns and travelling are often jiggly - and it gives an overall organic, industrial feel. Sort of like a warehouse or a rough brick wall. It is fun and easy to do on any kind of sewing machine, maybe you will give it a try too.
It is exactly the look I intended. I am pretty certain that washing and drying will also improve it and the wobbles and jiggles will melt into the design and the planned texture will be the feature. We will know soon.
I realized that I could also go back and add a bit of matchstick quilting, so I did that in a couple of places. I was hesitant to add too many really dense patches as that might affect the drape of the quilt.
If you were part of the instagram cheerleaders, thank you and thank you for not being tired of seeing photos of the quilting of this project. And yes, there are many
Carolyn Friedlander
fabrics in this quilt, along with others. Yes, the quilting was inspired by Carolyn's fabric, her work, her quilting in her book, and also inspired by others, including
Krista Withers
- I have been lucky enough to take classes from both of these talented women. I have quilted like this many times before, it is also just my own journey to use straight lines for quilting because I love them.
Today it is binding, mending threads and I want to work more with my scrap boxes too, and maybe some other project will call my name. Oh and there are the chores I neglected yesterday, sigh.
Have a lovely day!
Best,
Leanne