Last night I realized it was Tuesday today and although in my head I had started a scrappy project, it was time to actually start it. Despite the fact that it was late and dark, I pulled some pieces of green and low volume fabrics off my shelves. I have decided that any fabric that has already been cut once, can be considered a scrap as I need at least a 9" strip and preferably 17" strips for these blocks.
I read through
my tutorial to make Blended Scrap blocks
, and cut some 2" strips. As I was cutting, I cut two extra strips if there was enough fabric in my piece to do so. The extra cutting will organize these scraps into ready to use pieces for this project (and others too). My only debate is whether to start cutting 2.5" strips too, for possibly other projects. I am thinking I will.
So already, working with scraps is making more scraps. Now I need to find a nice bin to keep them in.
Late night sewing means bad photos. I need to do something about the light in my cutting area. I have been tidying it up as the new cutting table should arrive soon.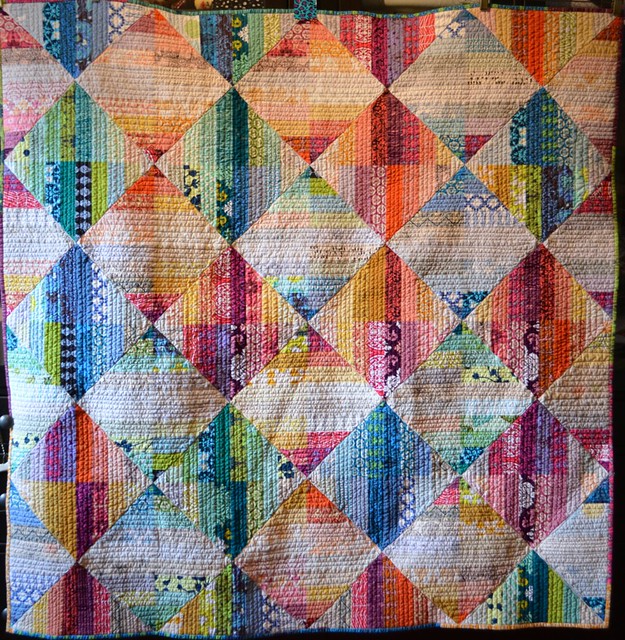 I thought I would show you a picture of
Reflection
, in case you want to join me in making a blended scraps quilt.
The tutorial is here
. As these blocks end up being HSTs, the options for using them are endless. Just remember that they will stretch a lot so handle them gently, maybe spray them with starch or something - I use
Flatter
.
And today
Nicky is starting a Liberty sampler quilt, head over to Mrs. Sew and Sow to see it
. I have Liberty scraps, I'm not sure I will be able to resist joining her too.
Next Tuesday - the second Tuesday of the month - we will host a link up for a scrap project you want to share - in progress or finished, and your scrap ideas and thoughts are welcome too. I'm going to find some prizes, let me know if you have one to give.
Best,
Leanne